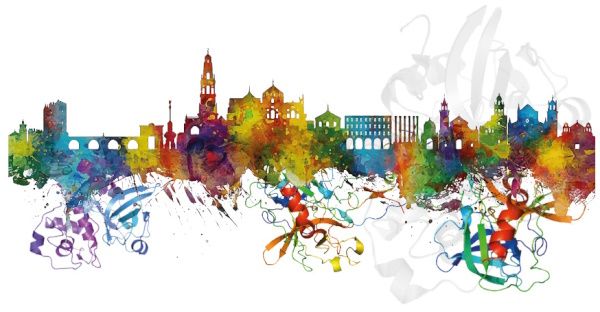 This Congress will be held in The University Rector's Residence of Cordoba, placed in Medina Azahara Avenue, 5, from 06 to 09 February 2024.
The meeting will explore various key topics, including: i) New Advances in Quantitative Proteomics, ii) Single Cell Proteomics, iii) Spatial-Omics: New Frontiers, iv) Clinical Proteomics, v) Proteomics of Non-Model Organisms of Interest in the Agroforestry, Food, and Environmental Sectors, vi) Bioinformatics and Data Processing and vii) Topdown & Interactomics. The organizing team, led by the four chairs, Antonio Romero-Ruiz, Mª Ángeles Castillejo-Sánchez, Eduardo Chicano-Gálvez, and Carlos Fuentes-Almagro, have done an excellent job in curating an outstanding program that features presentations and discussions led by international experts in the field.
This event is a joint meeting of the Spanish, Portuguese and French proteomics societies, Régine Lebrun and Blandine Chazarin from the FPS board of directors will take part in the scientific council.
Important informations:
Date of the meeting: 6 to 9 February 2024
Venue: Rectorado de la Universidad de Córdoba (Av. de Medina Azahara, 5, 14071 Córdoba)
Deadline for registration: 19th January 2024
Deadline for abstracts submission: 31st December 2023
Visit https://seprot2024.com/ for more information.